AVV. ANNA DI COSMO
COWORKER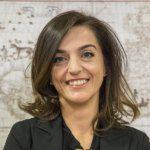 Born in Termoli (CB) on 29.8.1978.
1997 Classical high school diploma.
2002 Degree in Law from the University of Macerata
discussing a thesis in Civil Law with 110 marks and honors.
2006 Enrollment in the Macerata Bar Association.
Since 2006 he has been working in the Borgiani-Parisella law firm.
2013/2014 post-graduate university specialization course set up
from the University of Urbino "Carlo Bo" in "The mediation of conflicts in the field
family, prevention of youth discomfort and the network of social and health services in the Marche Region ".
Known languages: Italian, English and French.
She is passionate about travel, design, cinema and philosophy.
Cultivate the hobby of drawing.
dicosmo@studiolegaleborgiani.it
avvannadicosmo@cnfpec.it
it.linkedin.com/in/annadicosmo