DR.SSA GIADA PROPERZI
COWORKER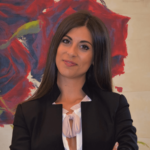 Born in Macerata on 23.8.1993.
2012 Scientific high school diploma.
From September to February 2016 he carried out the semester of study abroad at the UNIZAR, Universidad de Zaragoza – Zaragoza (Spain) with the LLP Erasmus project.
2017 Degree in Law from the University of Macerata, discussing a thesis in Civil Procedure Law with a mark of 110/110 with honors.
2017 Registration in the Register of Practitioners of Macerata.
She joined the Borgiani Parisella studio in November 2017.
Known languages: Italian, English and Spanish.
She is passionate about music, cinema and travel.
properzi@studiolegaleborgiani.it
facebook.com/giada.properzi
instagram.com/hey_._jade