AVV. LUCA FRANCO
COWORKER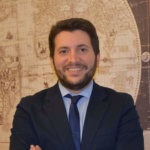 Born in Florence on 26.9.1984.
2003 Classical high school diploma.
2013 Degree in Law from the Alma Mater Studiorum University of
Bologna, discussing a thesis in Mafia and Antimafia with a vote by
110/110 with praise.
2015 2nd level Community Master at the Universidad Internacional
de la Rioja.
2018 Registration in the register of lawyers of Locri.
He joined the Borgiani Parisella studio in 2016.
Known languages: Italian and Spanish.
He is passionate about music, cinema and travel.
Practice fitness and sports, including crossfit and soccer.
franco@studiolegaleborgiani.it
avvlucafranco@pec.it
linkedin.com/in/luca-franco