DR.SSA STEFANI M. STEFANOVIC
COWORKER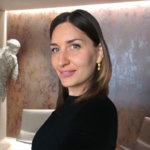 Born in Serbia in 1986.
2006 obtained Scientific high school diploma.
2020 graduated from the Faculty of Law at the University of Macerata, with a degree in law, discussing a thesis in Civil Procedure Law with a vote of 107/110.
2020 enrolled in the Second Level Interuniversity Master "Innovation in Public Administration" (MasterPA) at the University of Macerata.
2020 enrolled in the Register of Practitioners at the Macerata Bar Association.
She joined the Borgiani Parisella Studio in June 2020.
Known languages: Serbo-Croatian, Italian and English.
She visited, under self-sufficiency, some of the most remote places of the world. This has given her the opportunity to organize every little detail, from the logistic to the general, with the aim to live the culture and life style of the place. Nations she has been travelling to: Kenya, Tanzania, Congo, Morocco, Egypt, Bolivia, Malaysian Borneo, Cambodia, Greece and many others.
She has a passion for travel photography and rock music; loves to read design magazines and essays, especially scientific, economic, geopolitical and psychological ones. She also practices different sports at an amateur level and loves good Italian and foreign cuisine.