DR. VITTORIO MARCELLO CHINDAMO
COWORKER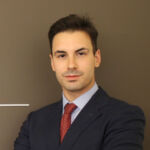 Born in Jesi (AN) on 5.5.1991.
In 2008 he attended Aldenham School in England for the improvement of the English language.
In 2010 he obtained classical high school diploma at Liceo Classico Vittorio Emanuele II in Jesi.
In 2012 he joined ALL AROUND Luiss University Association as Communications Manager.
In 2013 he took part in Luiss European Project in Netherlands and was management and organization manager of Luiss Law Students Association.
From October 2014 to April 2015 he carried out an internship at the Planning, Programming, Management Control and Evaluation Office of the Civil Liberties and Immigration Department of Ministero dell'Interno of Italian Republic.
In 2019 he obtained the Master's Degree in Law from LUISS Guido Carli in Rome, with major in Business Law and Economics.
Registered as a Trainee Lawyer at the Rome Bar Association since December 2019.
He has practiced dealing with corporate criminal law – in judicial and extra-judicial areas – and with criminal compliance pursuant to Legislative Decree 231/2001, actively participating in drafting of Organizational Models and in the activities of the Supervisory Bodies.
In June 2020 he obtained the Specialization Master at the Sole 24 Ore Business School in "231 Models: Discipline, Cases and Supervisory Bodies".
Since 2020 he has collaborated as author with the Salernitana Law School for the volumes of Criminal Law published by Giappichelli Editore.
He is the author of the publication "On the establishment of a civil action against the entity accused for liability 231" for the online legal magazine Ius In Itinere.
He joined Borgiani Parisella Law Firm in 2021.
Known languages: Italian, English
He actively participated in the management of a sports car team, obtained the National C license as a driver and took part in various car competitions.
Passionate about cars, water polo and literature.
chindamo@studiolegaleborgiani.it
Facebook: https://www.facebook.com/vittorio.chindamo
Instagram: https://www.instagram.com/vittorio.chindamo/
Linkedin: www.linkedin.com/in/vittorio-marcello-chindamo