AVV. DEBORAH VERGANI
COWORKER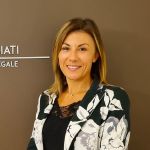 Born in Ancona on 27.11.1978.
1997 Classical high school diploma.
January 2004 Master's degree in Law at University of Macerata, with a
forensic medicine thesis.
November 2008 – Member of the Bar of Macerata Bar Association.
June 2009 – April 2014 City Councilor.
September 2022 Master in "Criminology".
Since 2022 she has been working in the Borgiani Parisella law firm.
Known languages: Italian, French and English.
Passionate about cooking, travel and crime books.
Contacts
vergani@studiolegaleborgiani.it
avvdeborahvergani@pec.it