DR.SSA NOEMI BELLESI
ADMINISTRATION MANAGER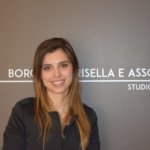 Dr. Noemi Bellesi
Administration Manager
Born in Macerata on 25.04.1989
Married.
2008 Diploma in Accounting, Commercial Expert and Programmer.
2012 Bachelor's Degree in Business Economics from the University of
Macerata.
2017 Specialized Degree in Consulting and Business Management address
professional, at the University of Macerata.
She joined the Borgiani Parisella e Associati law firm in 2019.
Known languages: Italian, English and French
She is passionate about cooking, cinema and travel.
amministrazione@studiolegaleborgiani.it