DR.SSA JESSICA RE
COWORKER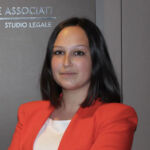 Born in Osimo (AN) on 13.12.1996.
In 2015 she obtained human sciences high school diploma.
In April 2021 she obtained the Master's Degree in Law at University of Macerata.
Registered as a Trainee Lawyer at the Rome Bar Association since December 2019.
Since April 2021 she has been attending the Second level University Master's Degree in Corporate Criminal Law at the Catholic University in Milan.
She joined Borgiani Parisella Law Firm in 2021.
Passionate about travel, music and dance.
Facebook: https://www.facebook.com/jessica.re.370/
LinkedIn: https://www.linkedin.com/in/jessica-re/
Instagram: https://www.instagram.com/jessica.re/