DR. STEFANO FERMANELLI
COWORKER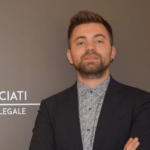 Born in Macerata on 2.6.1993.
Unmarried.
2012 Scientific high school diploma.
Graduating in Law at the University of Macerata.
2015 Training internship at the Borgiani Parisella law firm.
Known languages: Italian and English.
He is passionate about music, cinema, TV series and sports.
Since 2014 he has been performing security at the Lauro Rossi Theater and the Sferisterio Arena in Macerata.
fermanelli@studiolegaleborgiani.it
facebook.com/stefano.fermanelli