AVV. UMBERTO RICCIARDELLI
COWORKER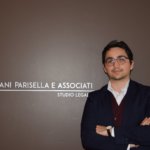 Born in Avellino on 29.4.1995.
Unmarried.
2014 Classical high school diploma.
From September 2018 to November 2018 he carried out a traineeship under the Erasmus framework at the legal firm James Watters & co Solicitors in Dublin.
From January 2019 to March 2019 he carried out a curricular internship at Public Prosecutor's Office in Macerata.
In February 2019 he took part in the Winter School on German and European Business Law organized by Julius-Maximilians-Universität in Würzburg.
In April 2019, he was a finalist and ex aequo prize as best speaker in the Local Moot Court Competition organized by Elsa Camerino and Elsa Macerata.
Since April 2019 he writes articles on legal matters for Il Chiasmo –Treccani online web portal.
October 2019 Master's degree in Law at University of Macerata, with a Civil Law thesis. Graduated with honors (110 cum laude).
2019 Admission to the Trainee Lawyers Register at the Bar Association of Macerata.
September 2020 graduated from the Giacomo Leopardi School of Studies – Class of Social Sciences, with a thesis on the implications of the precautionary principle in terms of civil law.
September 2020 Advanced Training Course on 'The regulation of robotics & Ai in europe: legal, ethical and economic implications' at the Sant'Anna School of Advanced Studis of Pisa.
January 2021 Second level Master Bankruptcy Law at the University 'La Sapienza' of Rome, with a thesis on the eligibility of avoidance actions among the liquidations proceedings. Graduated with honors (110/110 cum Laude).
Author of scientific publications for online magazines in civil and commercial law, as well as of a chapter on 'Civil liability for motor cars and industrial machinery', as part of the collective volume currently being drafted by ELSA Italy National Legal Research Group on 'Artificial Intelligence: Legal aspects'.
He joined Borgiani Parisella Law Firm in 2019.
Fluency in Italian and English.
Interested in motorcycles, cars, travel.