DR. UMBERTO RICCIARDELLI
COWORKER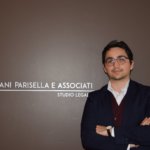 Born in Avellino on 29.4.1995.
Unmarried.
2014 Classical high school diploma.
Since 2014 enrolled in 'Giacomo Leopardi' School of Advanced Studies
From September 2018 to November 2018 he carried out a traineeship under the Erasmus framework at the legal firm James Watters & co Solicitors in Dublin.
From January 2019 to March 2019 he carried out a curricular internship at Public Prosecutor's Office in Macerata.
In February 2019 he took part in the Winter School on German and European Business Law organized by Julius-Maximilians-Universität in Würzburg.
In April 2019, he was a finalist and ex aequo prize as best speaker in the Local Moot Court Competition organized by Elsa Camerino and Elsa Macerata.
Since April 2019 he writes articles on legal matters for Il Chiasmo –Treccani online web portal.
October 2019 Master's degree in Law at University of Macerata, with a Civil Law thesis. Graduated with honors (110 cum laude).
2019 Admission to the Trainee Lawyers Register at the Bar Association of Macerata.
He joined Borgiani Parisella Law Firm in 2019.
Fluency in Italian and English.
Interested in motorcycles, cars, travel.